Who We Are
Maine Guide & Outfitter Services is owned by Roger Lambert, he is a Life Member of the Maine Professional Guides Association.
Roger Lambert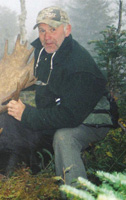 In the summer of 1962 when he was just 15 years old, Roger Lambert and an older friend outfitted and guided a group of Boston University Geology students on a 3 day trip up Day Mountain in Strong, Maine.

Forty five years later he still gets just as much kick out of it as he ever did. Whether it's Elk hunters in Colorado, a Moose Photo Safari in the High Peaks region of western Maine, Roger loves sharing the heritage and beauty of mountain habitats.

A Master Maine Guide, Roger's specialty is Moose calling and guiding trophy moose hunters often setting up remote "Moose Camps" for the enjoyment of his Staff and clients.

Roger is very proud to have mentored and inspired many young guides and has conducted Moose Educational Seminars at many of the major sporting shows in Maine. An active life member of the Maine Professional Guides Association, his advice is often sought out by many policy makers and advocates for Maine sportsmen on many back country issues.

Many of Roger's clients have taken "World Class" bulls and his favorite pursuit is "Holding Out" for a Boone & Crockett Bull.