Read comments from our clients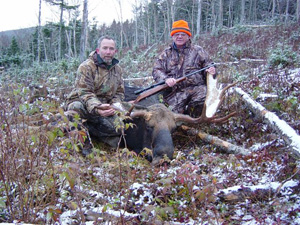 Ken Schildt from Maryland
with nice bull taken in 2003.
"I hunted with Maine Guide and
Outfitter Services in 2003 and had
a great hunt! We spent the week
roaming the mountains of western
Maine and took this nice bull on
Thursday after a couple of snow squalls moved through the area we were hunting in. It was a terrific hunt, and unique to say the least. No riding around in pick up trucks; we hunted in mountains and did not see another hunter except at camp. This 900 pound bull had a 54 inch spread, even though he had a broken right antler. I shot this bull in his bed at 120 yards, he never got up! Great food, great guides and outstanding hunting areas make this a must if you are drawn in Maine!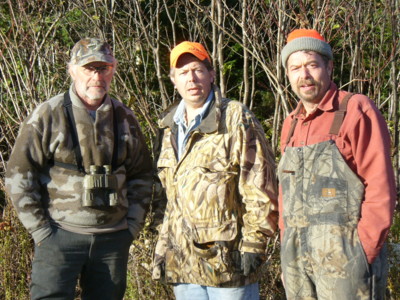 If you are looking for the true "on the ground" moose hunting experience, Maine Guide and Outfitter Services should be your choice. My hunt in October 2008 with Roger and Matthew was worth every bit of my 15 years of waiting to be drawn in Maine's lottery. The skill and effort put forth during our hunt was remarkable. Their knowledge of our quarry and ability to call these magnificent animals was impressive. Their preparation and talent made for a truly "once in a lifetime hunting experience". If you want to ride around in a pickup truck and road hunt, I suggest you look elsewhere, but if you want a hunt that you will be remembering for a long time to come contact Maine Guide and Outfitter Services. If I am lucky enough to be chosen again in Maine's lottery I will be calling on the services of Roger Lambert and Matthew Bailey to lead me back into the Maine woods for another great Moose experience. Sincerely, Dennis Van Deusen, -President- Oneonta Sportsman's Club, Oneonta, New York.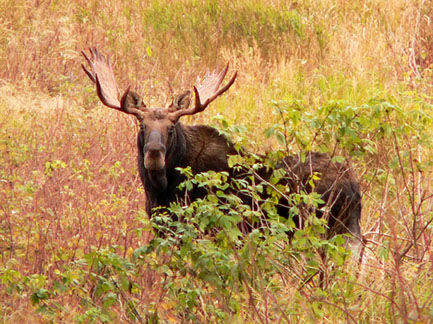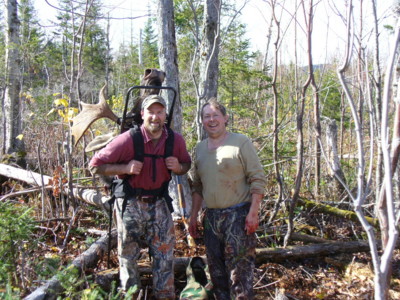 My name is Paul Sirois and in 2009 I drew a moose tag. Being from Connecticut I didn't want to take a chance with what could be the tag of a life time. So after a fair amount of research I found "Maine Guide and Outfitter Services" Master Guides in the zone I was drawn in. After speaking with them on the phone I knew I had the right men for the job; possessing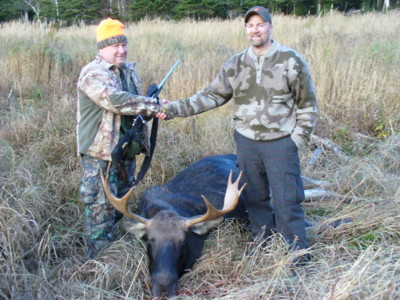 vast knowledge of the zones, years of experience in calling trophy moose, friendly personalities, and speaking of an ethical hunt. I was sure I wanted Matthew and Roger to guide me. This was accomplished not from the seat of a pickup truck, but from a tent spike camp in the heart of Moose country. The professionalism of "Maine Guide and Outfitter Services" was second to none. I have been on guided hunts from British Columbia, to New Mexico, to New Foundland and alot of places in between. I have never met Guides like these - caring, thoughtful, safety minded, outgoing individuals are some of the ways to describe them. If you are drawn for a moose tag and want a hunt to remember for the rest of your life these are the men to get. They will go to great lengths to make sure every hunter has a great hunt. I know who I will be going with when my son draws his tag. From before sunup, until well after sundown, they will be there with great meals and a comfortable place to sleep. All hunters in camp were successful with a Bull Moose to be proud of and memories to last a lifetime. Thank you Matthew and Roger, Yours truly, Paul Sirois. Reference phone # 203-804-6780